Through innovative education of talented graduate, undergraduate, and high school students, the I/UCRCs are providing the next generation of scientists with a broad, industrially oriented perspective on research and management practices.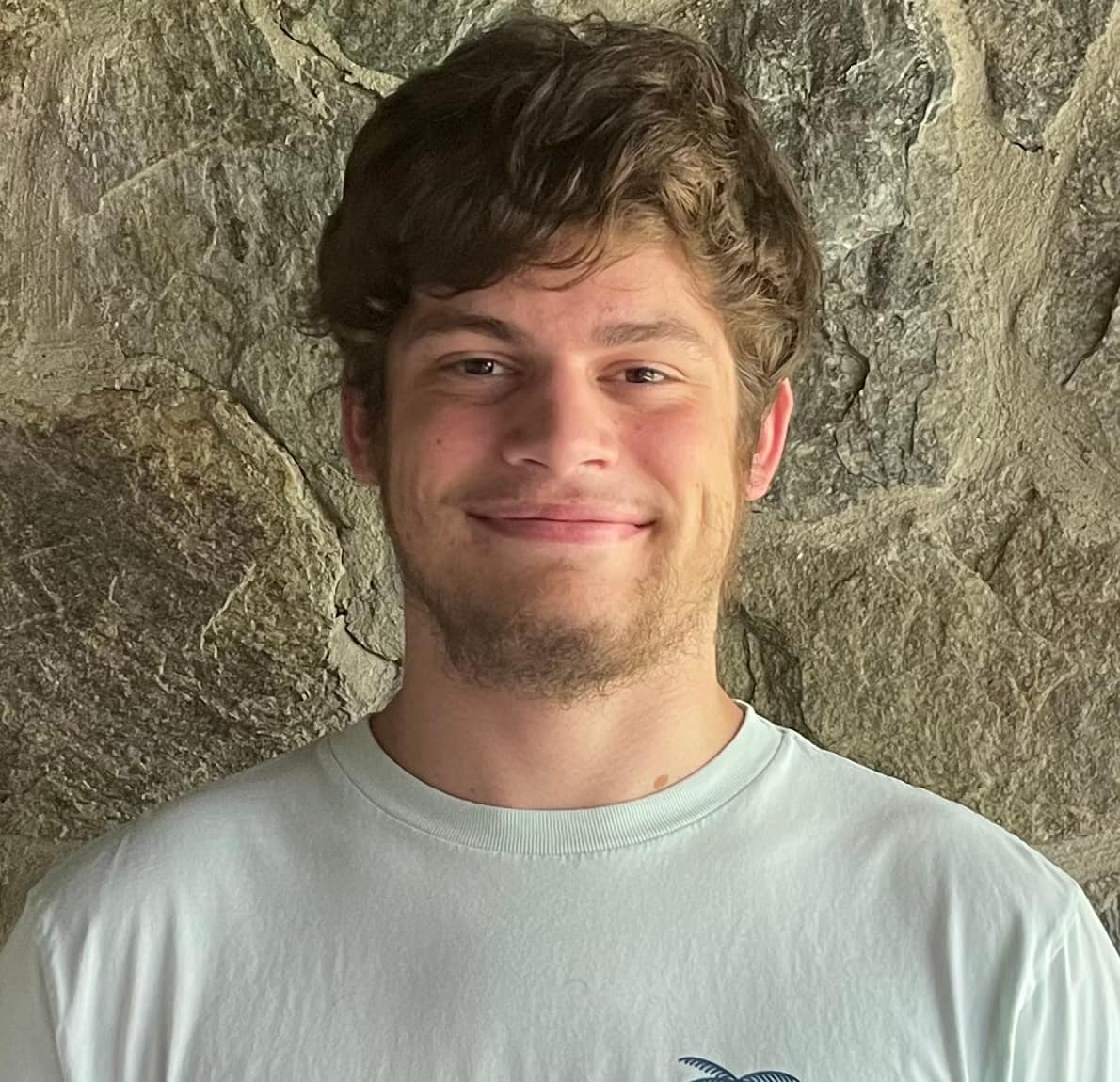 Garrett Bellin: Undergraduate Student at William & Mary, Williamsburg, Virginia
Garrett Bellin is a rising sophomore at William & Mary studying applied statistics and data science. He is a researcher for the William & Mary Center for Geospatial Analysis, performing GIS analyses for various clients. Currently, he is working with Dr. Roger Mann using GIS mapping to find cod spawning locations and determine how they are affected by ocean warming trends. Using the DOPPIO and GLORYS ocean temperature datasets, ideal temperatures for cod spawning will be ascertained and overlaid with substrate and cod location data. Garrett hopes to be able to create GIS models that can predict future cod spawning grounds as ocean temperatures continue to rise. Policy changes could ultimately be affected which address the location and boundary of the Great South Channel Habitat Management Area near Nantucket.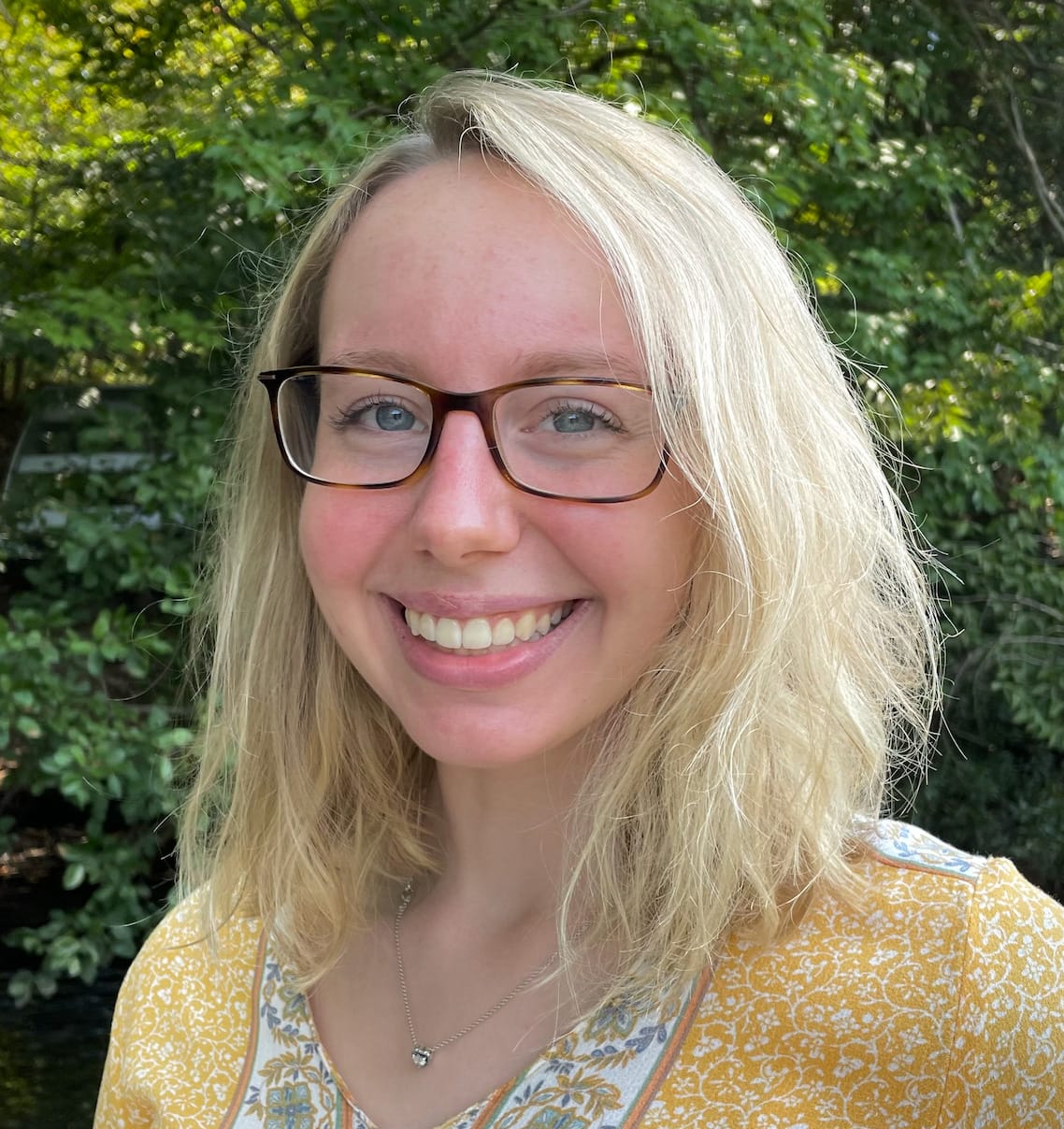 Caela Gilsinan: Undergraduate Student at William & Mary, Williamsburg, Virginia
Caela Gilsinan is an undergraduate at William & Mary and has been working on a wind energy/fisheries economy project with Dr. Andrew Scheld, Virginia Institute of Marine Science and Dr.'s Daphne Munroe and Sarah Borsetti, Rutgers University. She has been able to meet with hatchery managers, researchers, and others knowledgeable about hatchery production, collecting information on hatchery production methods and costs, and developing a cost model to evaluate the economic viability of large-scale hatchery production for Atlantic surfclam. She developed skills in coding, simulation modeling, and analyzing techno-economic cost models to evaluate fixed, variable, and average production costs and maximum production scales.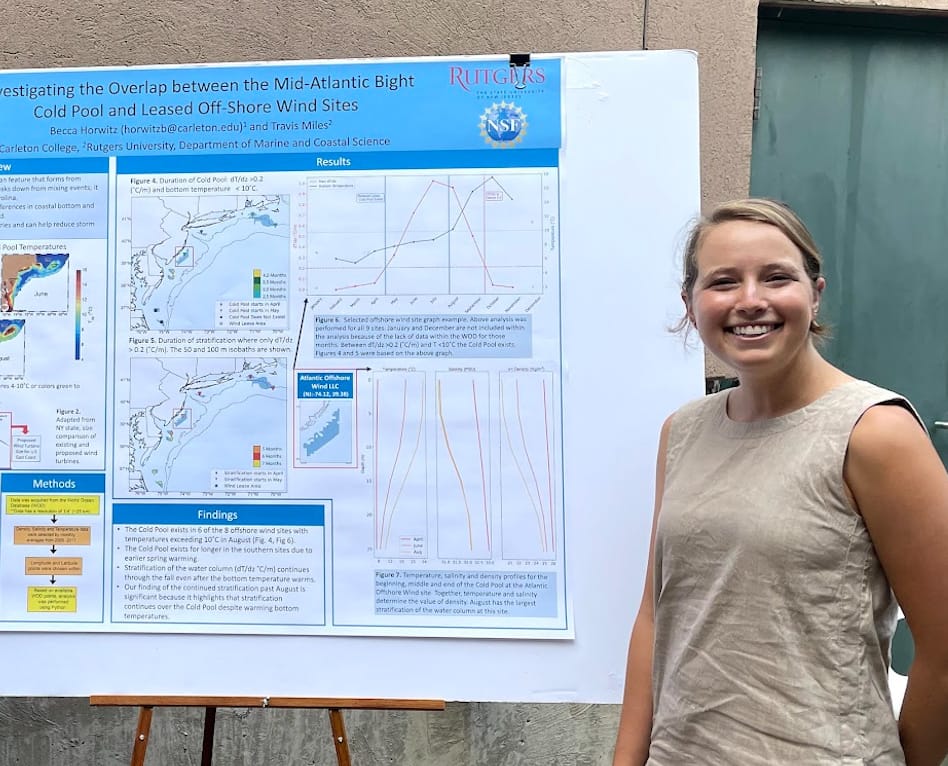 Becca Horwitz: Undergraduate Student at Carlton College, Northfield, Minnesota
Becca has been working with Dr. Daphne Munroe and Dr. Travis Miles, Rutgers University, to look at whether the cold pool (a coastal cold water stratification) overlaps with proposed offshore wind sites on the east coast using observational and model data. The overlap has the potential to weaken the Cold Pool possibly hurting fisheries that rely on the cold water.
– Video related to Becca's research
Brody Phillips: Undergraduate Student at William & Mary, Williamsburg, VA
Brody is a first generation undergraduate student at William & Mary majoring in Biology and minoring in Psychology. He is currently working with Dr. Roger Mann as a REU (Research Experiences for  Undergraduates) student in the Virginia Institute of Marine Science (VIMS) Molluscan Ecology Lab to investigate the potential electromagnetic field (EMF) impacts of inter array cables from offshore wind farms on invertebrate species. This project consists of literature review of offshore wind farms, power cable modeling, and previously studied EMF relationships within the marine environment. While previous research in this area is minimal, predominant focused has been on more charismatic (vertebrate) species such as sharks, dolphins, and turtles. Almost no research related to underwater transmission cables and EMF alteration impacts at the neurological level has been done on invertebrate species. Along with literature review, he will be meeting with energy transmission engineers, neurophysiology researchers, and other professionals to determine the significance of these impacts and how they affect neuron communication and function in invertebrates. 
Laura Solinger: PhD student at the Gulf Coast Research Laboratory, University of Southern MIssissippi 
Laura's work focuses on developing a risk-based approach to assess the effectiveness of different management strategies on fisheries resources, including summer flounder and Atlantic surfclam. Laura was awarded a NSF non-academic internship to collaborate with the stock assessment lead for Atlantic surfclam, Dr. Daniel Hennen, at the NE Fisheries Science Center, and she has also collaborated on projects for management of gulf oysters, abalone disease transmission, and forecasts of clam fisheries given projected offshore windmill construction. Laura received her BS in Biology with a focus on Marine Science from the University of South Florida, and is currently finishing her MS in Fisheries Biology with Humboldt State University. After her PhD, Laura hopes to work with private and public fisheries organizations to develop stock assessment models, assess their effectiveness and continue incorporation of new data sources and environmental variables into models.
Jill Sower: graduate student at the USM Gulf Coast Research Lab in Ocean Springs, Mississippi

Jill Sower is a second year Master's student at the Gulf Coast Research Lab. Her work at GCRL focuses on examining population dynamics for ocean quahogs off the coast of New Jersey in comparison to different quahog populations from along the coast of New England.  Jill received a B.S. in Wildlife Conservation and a B.A. in Spanish from Virginia Tech in Blacksburg, VA. She hopes to graduate in Spring 2022, and after finishing her degree, she would like to continue working in a research position at a coastal university along the East Coast. Jill says, "NSF and SCEMFIS have provided me with invaluable opportunities to learn about unique and important species like the ocean quahog. I also received an internship through NSF that allowed me to conduct my own research project which will surely prepare me for my future career."