Through innovative education of talented graduate, undergraduate, and high school students, the I/UCRCs are providing the next generation of scientists with a broad, industrially oriented perspective on research and management practices.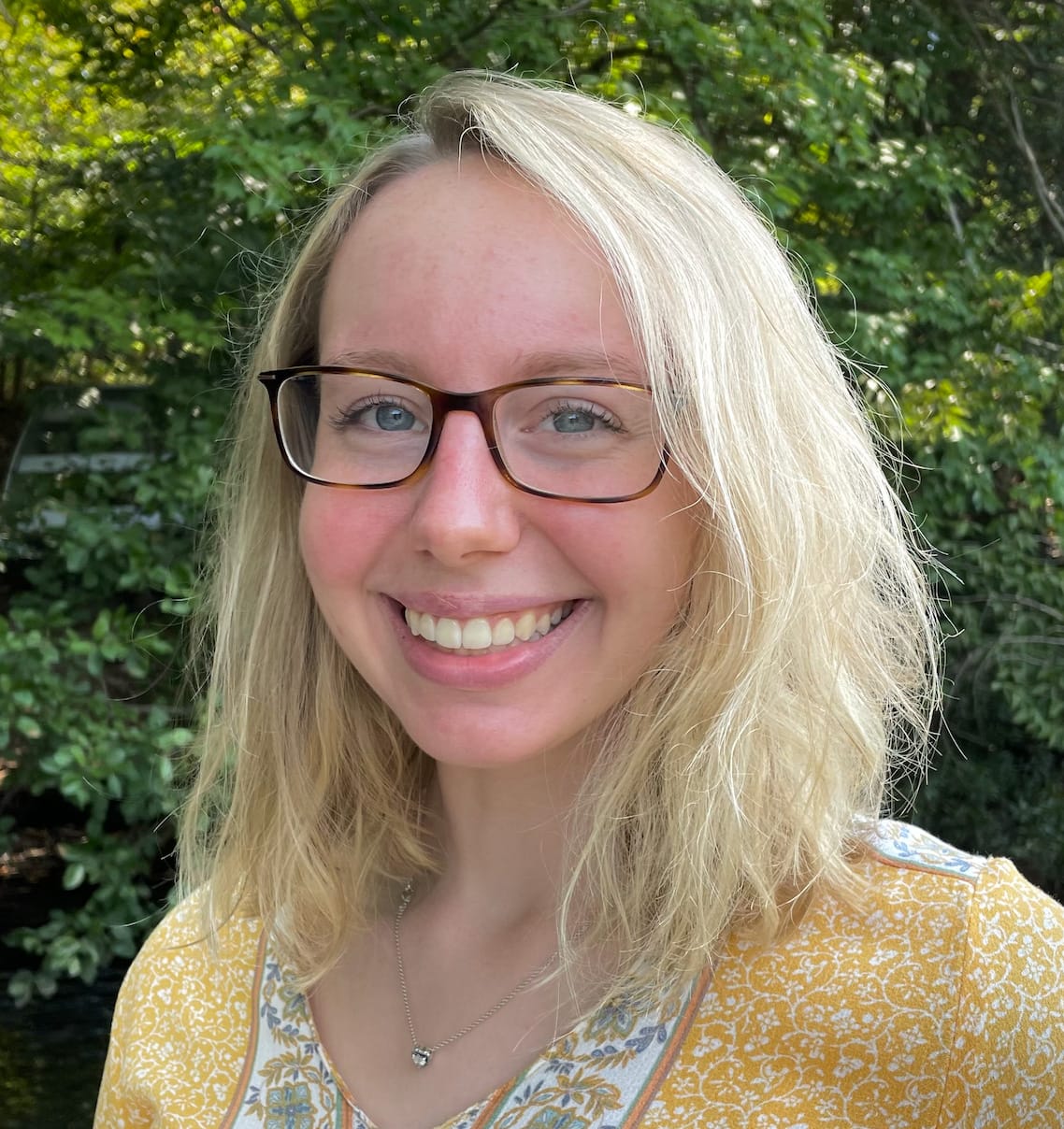 Caela Gilsinan: undergraduate at the College of William & Mary
Caela Gilsinan is an undergraduate at the College of William and Mary and has been working on a wind energy/fisheries economy project with Dr. Andrew Scheld, Virginia Institute of Marine Science and Dr.'s Daphne Munroe and Sarah Borsetti, Rutgers University. She has been able to meet with hatchery managers, researchers, and others knowledgeable about hatchery production, collecting information on hatchery production methods and costs, and developing a cost model to evaluate the economic viability of large-scale hatchery production for Atlantic surfclam. She developed skills in coding, simulation modeling, and analyzing techno-economic cost models to evaluate fixed, variable, and average production costs and maximum production scales.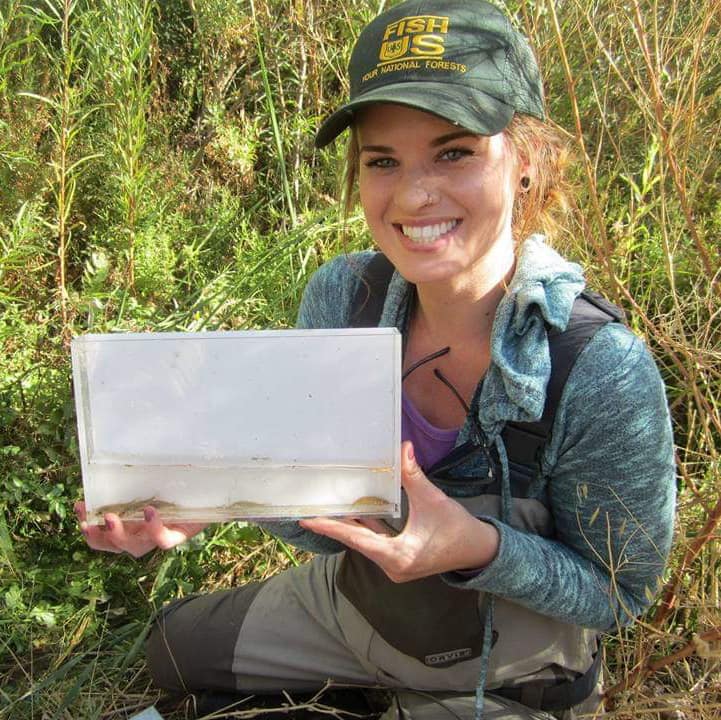 Kathleen Hemeon: 3rd year PhD candidate at the Gulf Coast Research Lab at the University of Southern Mississippi
In her second year as a PhD student, Kathleen participated in a National Science Foundation non-academic internship, which funded a six-month collaborative research study at the Population Biology Branch of the NMFS Northeast Fisheries Science Center in Woods Hole, MA. Kathleen also worked to develop age-error estimations and protocols that arise when aging the commercially harvested ocean quahog (Arctica islandica), the longest-lived bivalve on Earth. These data will help researchers identify age-reader bias and precision to report with age estimations, in addition to standardizing aging procedures for an animal that is notoriously difficult to age. Kathleen will continue her work on ocean quahog with her dissertation, which will better explain the population dynamics of two Mid-Atlantic quahog populations. 
– Kathleen Hemeon's website and Young Professional Spotlight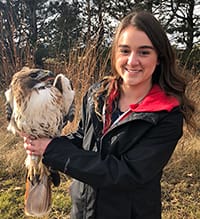 Alexis Hollander: Master's Student at the Virginia Institute of Marine Science, College of William & Mary 
Alexis is a Master's student in Dr. Roger Mann's Molluscan Ecology Lab. For her Master's research, Alexis is investigating the impacts of climate change on the growth and distribution of Atlantic surfclams (Spisula solidissima). The moving footprint of the range of exploited surfclams in these regions over the past four decades is now well documented in both North East Fisheries Science Center (NEFSC) stock assessment surveys and the gradual northeasterly movement of harvest activity. This project is developing a 33-year retrospective, spatially explicit time series of growth rates in surfclams collected over the surveyed range to both document the moving footprint in terms of population productivity and provide an explicit forward projection of future productivity. Alexis has a career goal of serving as an educator and mentor to college students.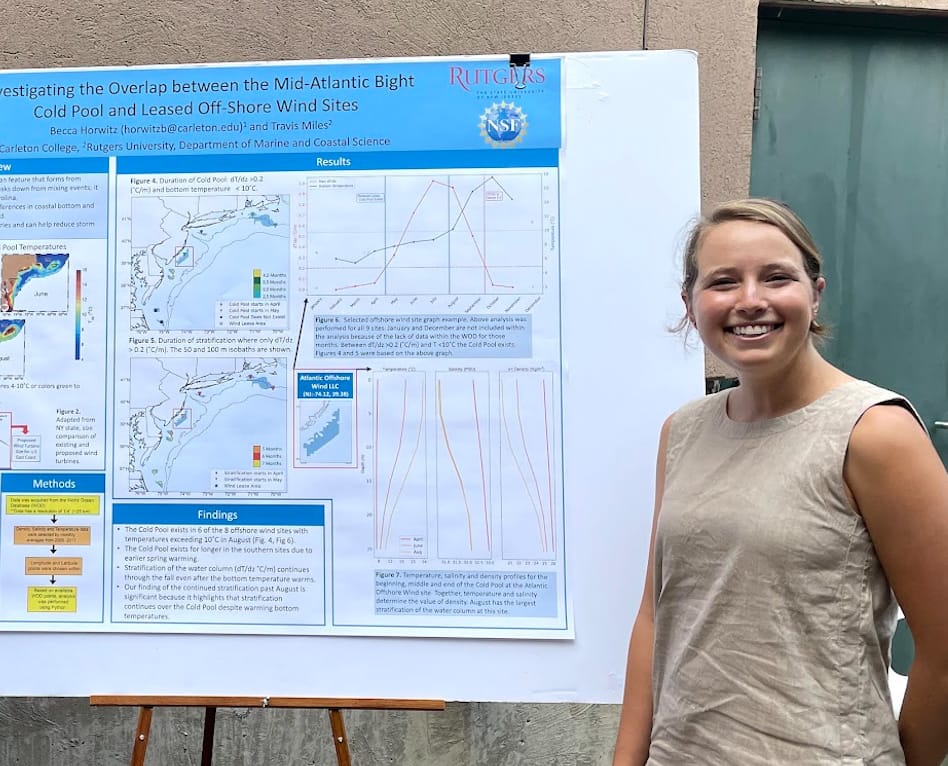 Becca Horwitz: Undergraduate Student at Carlton College, Northfield, Minnesota
Becca has been working with Dr. Daphne Munroe and Dr. Travis Miles, Rutgers University, to look at whether the cold pool (a coastal cold water stratification) overlaps with proposed offshore wind sites on the east coast using observational and model data. The overlap has the potential to weaken the Cold Pool possibly hurting fisheries that rely on the cold water.
– Video related to Becca's research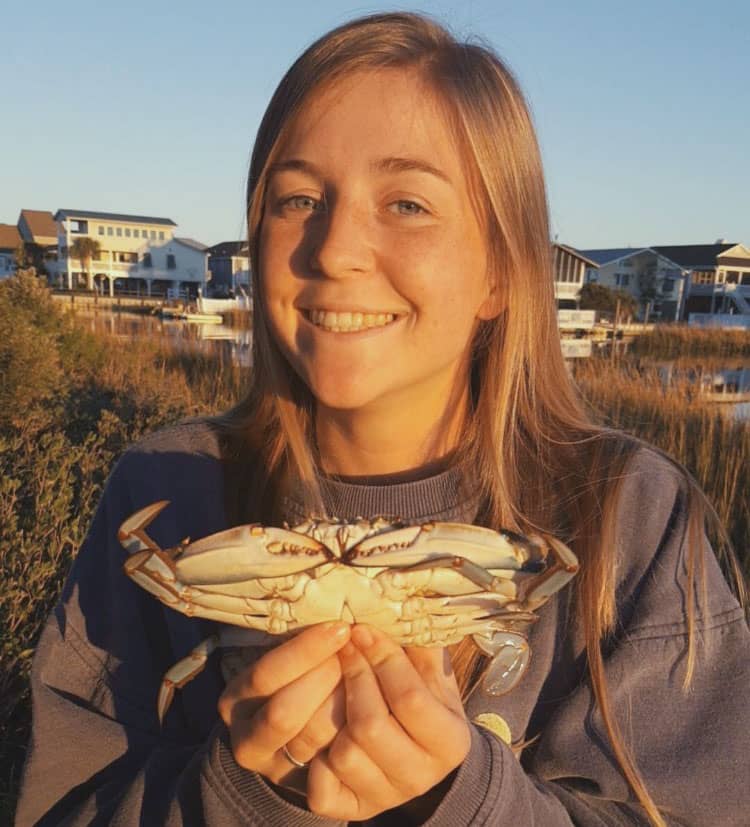 Alyssa LeClaire: Master's student at the Gulf Coast Research Laboratory, University of Southern Mississippi
Alyssa has been working in collaboration with VIMS to collect samples from archived ocean quahog shells found offshore of the Delmarva Peninsula. Carbon dates will be used to determine the time scale of the ocean quahog's range shift across the continental shelf in Mid-Atlantic Bight, coinciding with fluctuation of the Cold Pool and historical climate events. She has sampled shells that are over 4000 years old. Alyssa is applying for an NSF nonacademic internship to work with NOAA's Northeast Fisheries Science Center (NEFSC) and Geophysical Fluid Dynamics Laboratory (GFDL). This five-month internship would be to determine if the Cold Pool has significantly changed, in terms of size and location, and if this change is impacting the available habitat of ocean quahog. Alyssa says, "Thanks to my research with SCEMFIS, I've had the opportunity to work directly with clam fisheries and gain incredible experience out at sea in the Northwest Atlantic."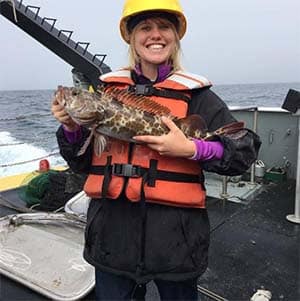 Laura Solinger: PhD student at the Gulf Coast Research Laboratory, University of Southern MIssissippi 
Laura's work focuses on developing a risk-based approach to assess the effectiveness of different management strategies on fisheries resources, including summer flounder and Atlantic surfclam. Laura was awarded a NSF non-academic internship to collaborate with the stock assessment lead for Atlantic surfclam, Dr. Daniel Hennen, at the NE Fisheries Science Center, and she has also collaborated on projects for management of gulf oysters, abalone disease transmission, and forecasts of clam fisheries given projected offshore windmill construction. Laura received her BS in Biology with a focus on Marine Science from the University of South Florida, and is currently finishing her MS in Fisheries Biology with Humboldt State University. After her PhD, Laura hopes to work with private and public fisheries organizations to develop stock assessment models, assess their effectiveness and continue incorporation of new data sources and environmental variables into models.
Jill Sower: graduate student at the USM Gulf Coast Research Lab in Ocean Springs, Mississippi

Jill Sower is a second year Master's student at the Gulf Coast Research Lab. Her work at GCRL focuses on examining population dynamics for ocean quahogs off the coast of New Jersey in comparison to different quahog populations from along the coast of New England.  Jill received a B.S. in Wildlife Conservation and a B.A. in Spanish from Virginia Tech in Blacksburg, VA. She hopes to graduate in Spring 2022, and after finishing her degree, she would like to continue working in a research position at a coastal university along the East Coast. Jill says, "NSF and SCEMFIS have provided me with invaluable opportunities to learn about unique and important species like the ocean quahog. I also received an internship through NSF that allowed me to conduct my own research project which will surely prepare me for my future career."
Jasmine Whelan: senior at the College of William & Mary and National Science Foundation REU recipient.
Jasmine is pursuing a B.S. in biology with a marine science minor. Previously she worked in an avian lab where she studied the effect of mercury pollution and stress on a songbird's ability to promote quality feather growth. As an REU recipient at VIMS, Jasmine is working in the Molluscan Ecology Lab assisting PhD student Alexandria Marquardt in her research on Virginia oyster life history. Her dream is to one day study, and potentially find ways to reduce, the detrimental effects of anthropogenic factors along the Great Barrier Reef .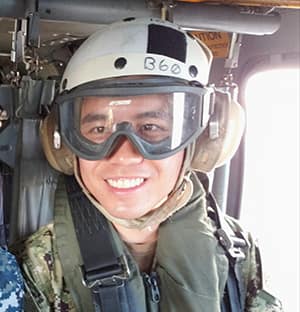 Shijun Zeng: senior, College of William & Mary and recipient of National Science Foundation Veteran's Award.
Shijun is currently a senior at the College of William and Mary where he is pursuing a B.S. in Chemistry. Previously he was a Hospital Corpsman in the Navy for seven years working as a surgical assistant in Naval Hospital Okinawa and onboard USNS Comfort. He sailed with the Comfort to over 11 Central and South American countries assisting surgeons perform laparoscopic cholecystectomies and cataracts on a majority indigenous population that are medically underserved. These procedures are non-invasive and have a high impact on quality of life. Shijun is also a National Science Foundation Veteran award recipient at VIMS working in the Molluscan Ecology Lab. Shijun is currently aiming to enter medical school after graduation. He wants to return to the operating room as a surgeon one day.