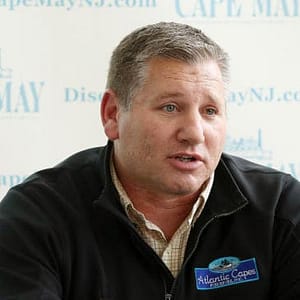 Sam Martin, Chair
Sam Martin, the current SCEMFIS Chair, is also the Vice President of Operations of Atlantic Capes Fisheries, Inc., in Cape May, New Jersey. Atlantic Capes runs a fleet of approximately 20 boats and is largely known as a leading harvester and marketer of scallops. They are responsible for about 25 percent of the East Coast scallops but also sell flounder, scup, clams and squid. Sam is a 4th generation fisherman originally from Ocean City, Maryland where his family started the Martin Fish Company.
Dr. Eric Powell, Director
Dr. Eric Powell presently serves as the Director of SCEMFIS and oversees the primary site at the University of Southern Mississippi. Eric has been an oceanographer/marine biologist for the past 34 years at Texas A&M University, Rutgers University, and USM. Over that time, Powell has published articles in the fields of meiobenthology, paleoecology and taphonomy, shellfish ecology, marine diseases, population dynamics modeling, and fisheries resource management.
Dr. Eleanor Bochenek, Vice Chair
Dr. Eleanor Bochenek, the current SCEMFIS Vice Chair and recently retired as the Director of the Fisheries Cooperative Center of the Haskin Shellfish Laboratory at Rutgers University. Her areas of expertise are fisheries and marine resource management with emphasis in gear technology, bycatch, discards, hook and release mortality, socioeconomics, and habitat degradation as well as fisheries management issues and policies. She serves as the Science Liaison for the National Fisheries Institute-Scientific Monitoring Committee (commercial trawlers, docks, and processors from Rhode Island to New Jersey) and also works with the National Fisheries Institute-Clam Committee.
Dr. Roger Mann, Site Director
Dr. Roger Mann is a professor at the Virginia Institute of Marine Science and the VIMS Site Director for SCEMFIS. After post doctoral and staff appointments at the Woods Hole Oceanographic Institution he joined the VIMS faculty in 1985. He served as the VIMS Director of Research and Advisory Services from 2003 through 2012. His research interests include fisheries biology, marine ecology and physiology, invasive species biology and climate change. Roger has published over 135 journal contributions and edited several books.